1.
Maligne Canyon Icewalk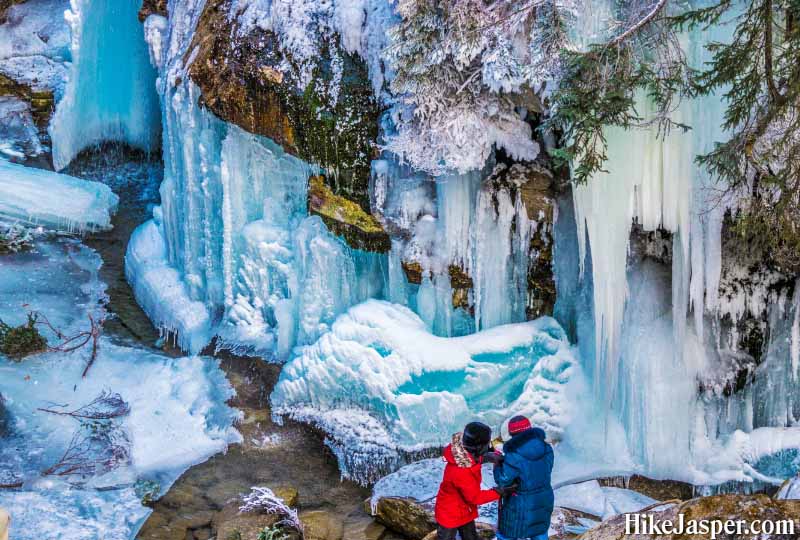 Jasper's Winter 3-hour icewalk adventure leads you deep inside Maligne Canyon, along its icy floor. Explore Maligne's rocky maze of sculptures, ice caves and fossils, along with spectacular waterfalls naturally frozen in time during winter.
The Maligne Canyon Icewalk is designated as a signature experience by the Canadian Tourism Commission, due to its unique geological features and outstanding beauty.
Maligne Canyon Icewalk
2.
Jasper Winter Wildlife Tours
Witness Jasper National Park's winter wildlife in the subalpine. Jasper National Park is the largest national park in Canada's Rockies, offering plenty of opportunity to view Wildlife in the Winter. Professional, Highly Knowledgeable Wildlife Guides will transport you through a wide range of winter Wildlife habitats found in Jasper National Park.
Jasper Winter Wildlife Tours
3.
Jasper in January's Winter Celebration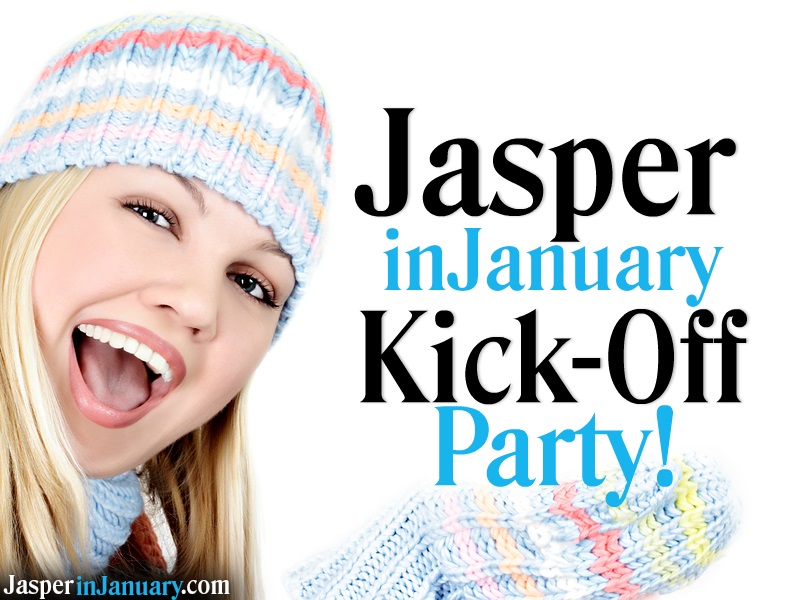 Celebrate Winter in Jasper National Park with a huge lineup of Events in January. Jasper in January's Winter celebration for 2020 takes place from January 17th to February 2nd. Also enjoy an incredible nighttime atmosphere with free shows all festival long. Jasper in January has No shortage of Winter Nighttime Entertainment!
Jasper in January
4.
Ski or Snowboard at Marmot Basin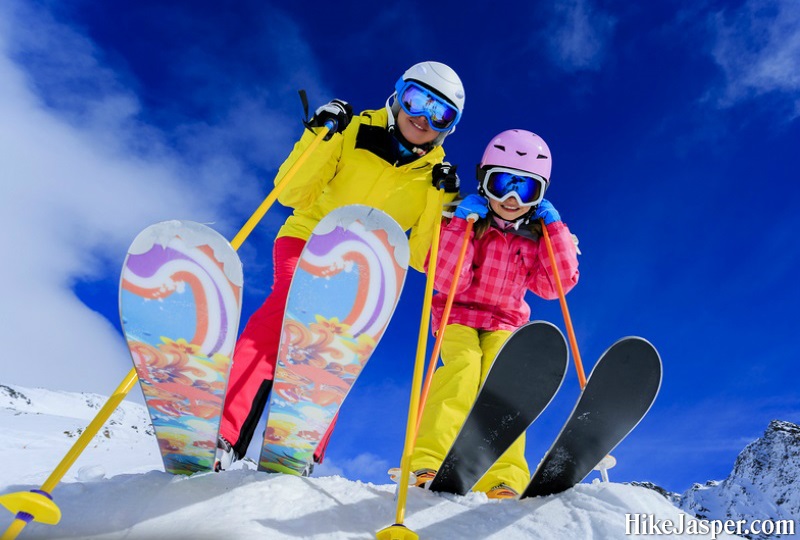 Ski or snowboard Marmot Basin's pristine, uncluttered Mountain. Jasper offers an authentic Canadian Rocky Mountain experience that is easy-going and relaxed. A true mountain ski town in winter! Jasper has managed to preserve this small-town feeling while offering amenities expected from world-class winter resorts.
5.
Horse Drawn Sleigh Rides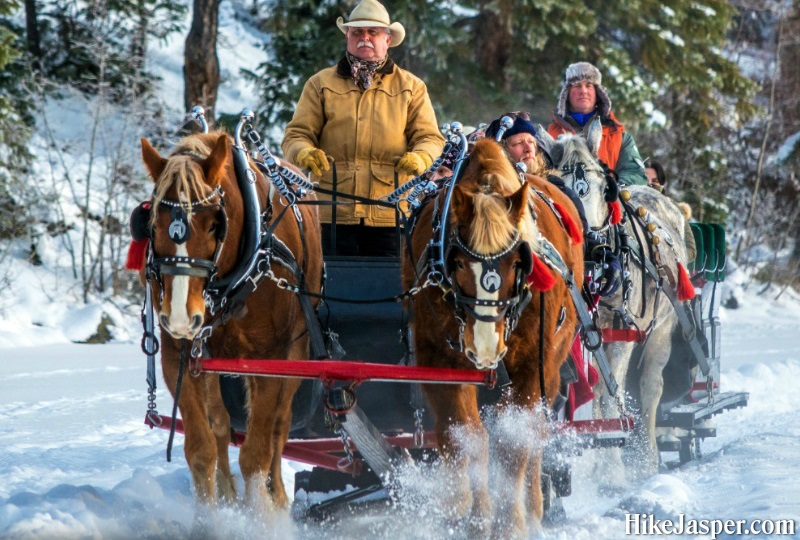 Winter in Jasper National Park also offers Horse Drawn Sleigh Rides along the sunny shore of Pyramid Lake. Matched teams of horses, tuned bells, sleighs with comfortable seats and warm throw blankets make for a classic Jasper Winter Sleigh Ride Experience.
Pyramid Lake Sleigh Rides in 2020
6.
Jasper's Amazing Dining out Atmosphere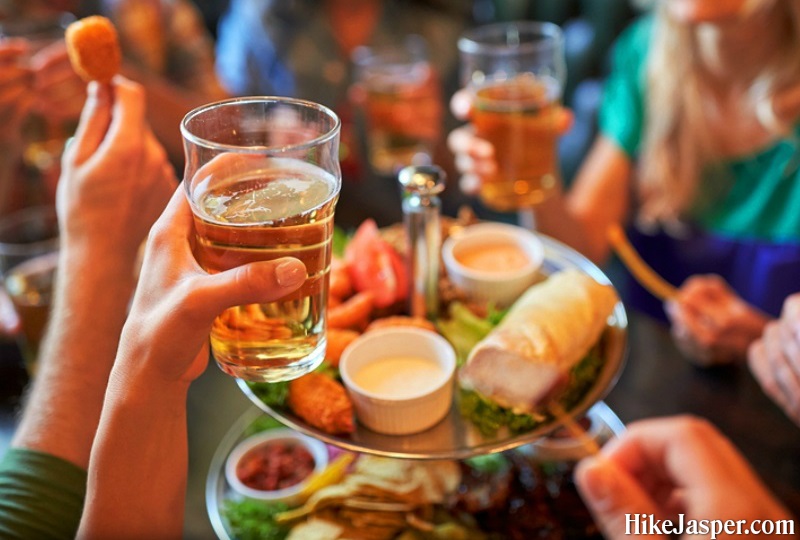 Jasper's authentic Canadian Rocky Mountain town might be a little winter mountain town, but it's Amazing Dining out Atmosphere rivals even big cities. Take in breathtaking Winter Views of Jasper National Park's mountains, paired with Dining experiences provided by some of the most experienced culinary teams in the Canada.
7.
The Fairmont Jasper Park Lodge Pool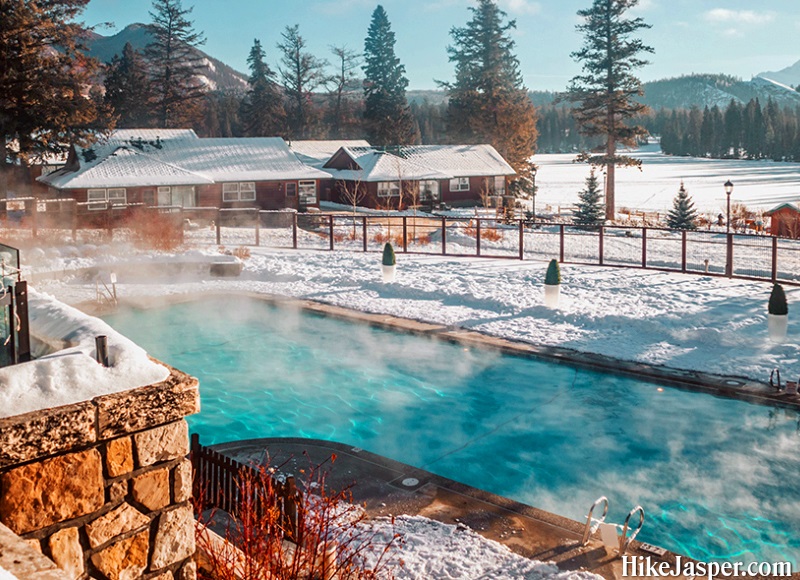 Enjoy Family Fun at Jasper Fairmont Park Lodge's Outdoor Pool. JPL's Pool is open in the winter and kept at a balmy 88 degrees. Fairmont's swim out pool offers spectacular views of Jasper National Park's surrounding snow-covered mountain ranges.
8.
Snowshoeing in Jasper National Park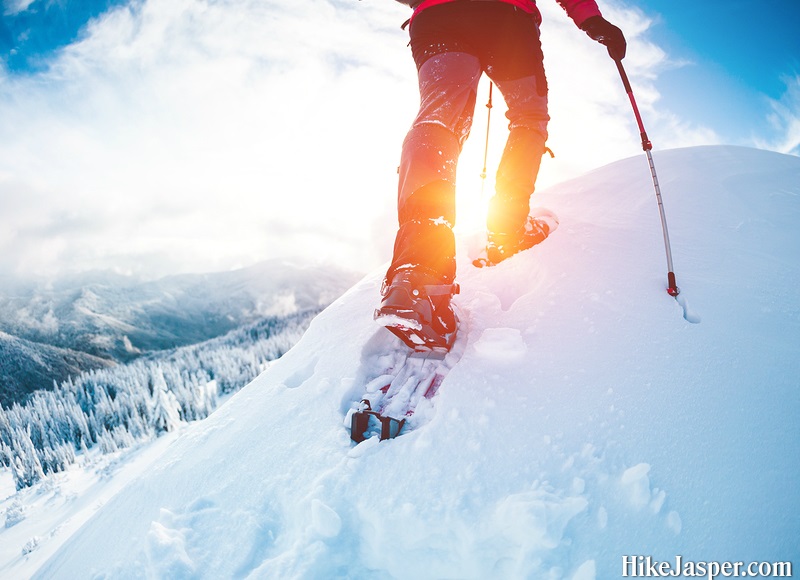 Jasper National Park is an incredible place to snowshoe in the Canadian Rockies, with more untracked beautiful Winter territory than one could possibly imagine. Snowshoeing is one of Jasper's most accessible winter activities, with over 11,000 square kilometres of protected land boasting endless trails and magical areas for you to explore. All levels and abilities can enjoy snowshoeing; our trails are perfect for beginner snowshoers all the way to athletic backcountry explorers.
Here are Some Common Snowshoeing Areas to Visit in Jasper National Park
Pyramid Bench
- With lookouts of one of Jasper's most famous mountains, Pyramid Mountain, expect incredible views as you snowshoe along these trails.
Maligne Lake Area
- Winter at Maligne Lake has some of the best snow in Jasper National Park, making it the perfect place to view wildlife while exploring the many picturesque trails.
Highway 93A and Icefields Parkway
- Showshoeing along the parkway offers views of the powerful Athabasca and Sunwapta Falls along with the opportunity to get close to the massive Athabasca Glacier (either from the toe or from above at Wilcox).
9.
Cross Country Skiing in Jasper National Park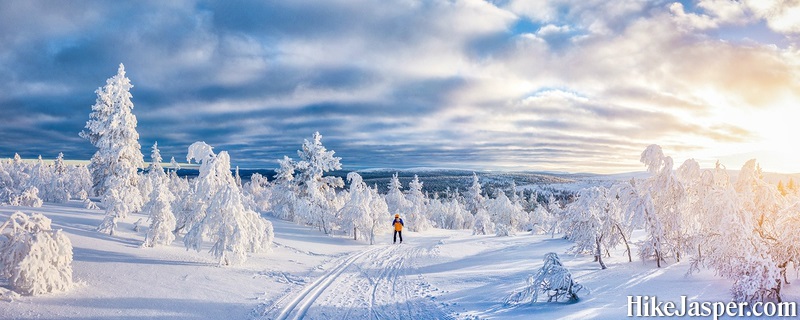 One of Canada's Largest Cross Country Ski Areas, Jasper National Park has endless kilometres of cross country ski trails. Groomed ski trails take you through adventurous beautiful valleys, past stunning lakes and through amazing Canadian Rocky Mountain scenery. Whether you enjoy short cross country ski loops with gentle slopes and spectacular sights, or longer challenging ski routes; Jasper is full of breath-taking cross-country skiing adventures.
Skiing in Jasper
10.
Ice Skating on Ponds and Lakes among Jasper's Mountains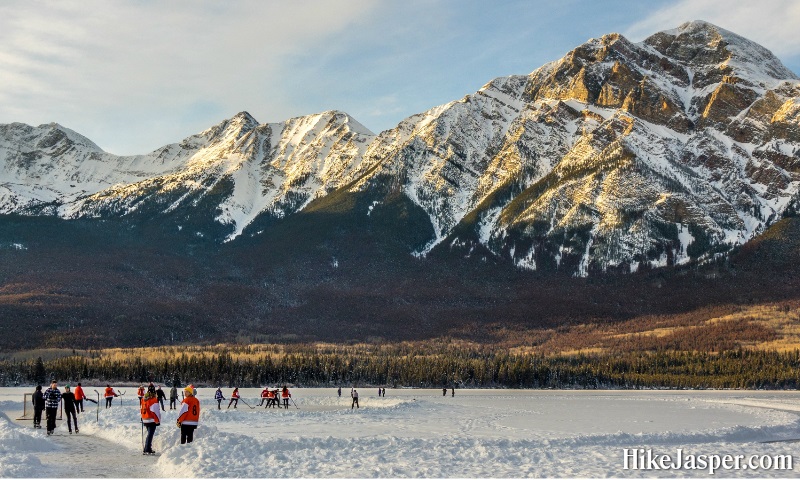 Experience truly Canadian ice skating experiences on Lac Beauvert, Lake Mildred and Pyramid Lake. Skating rinks are cleared and often kept lit for evening ice skating. At Lake Mildred, a giant oval is cleared and inside this oval, there are two rectangular rinks cleared on most days, where you can enjoy a spirited game or two of pond hockey. Pyramid lake also has rink and oval areas cleared for casual lake skating enjoyment.
Jasper pond Hockey Tournament