Hiking Distance The Valley of the Five Lakes loop is a 4.5km circuit.
Hiking Time It will take 1.5 to 2 hours to complete this hiking circuit.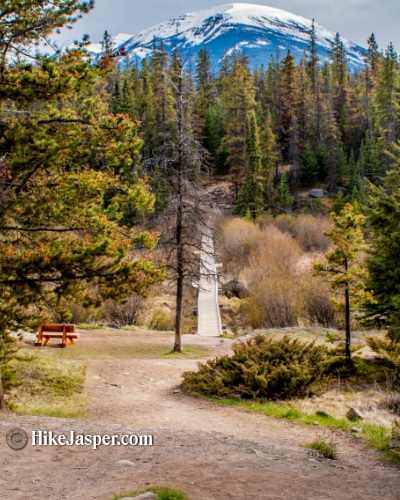 Getting to
Valley of the Five Lakes Trailhead..
You will find the Valley of the Five Lakes hike simply along the Icefields Parkway, just under 9km south of the traffic lights at Jasper.
The parking area, trailhead, and some areas of the hiking trail were refreshed for Canada's 150 in 2017. The Valley of the Five Lakes Trailhead now provides much more room for parking.
The
Valley of the Five Lakes
Hike..
Start your hike from the parking area, following the wide path through the forest, meeting a bridge over the Wabasso Creek.
2010's New Hiking Bridge..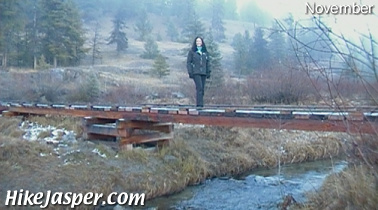 The below section of hiking trail ascends a more winding route in 2017. This refresh assists in both restoration of the area(previously straight up), as well as a gentler first elevation gain.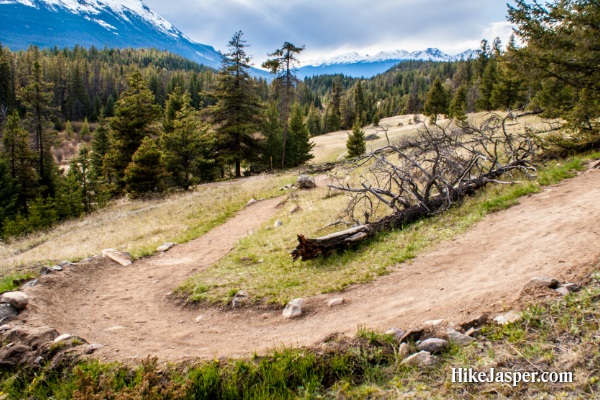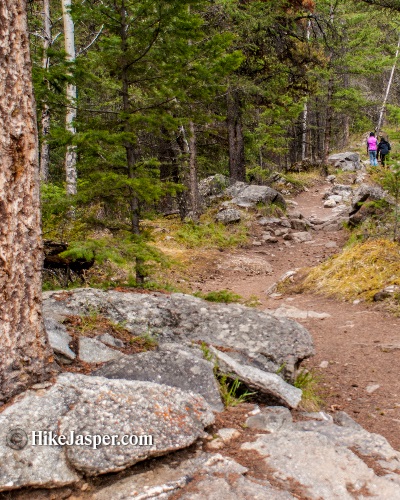 Several sections of the Valley of the Five Lakes hiking trail contain both elevation gains and losses among small boulders.
These areas require special attention to footing and ankle support, especially in wet or muddy hiking conditions.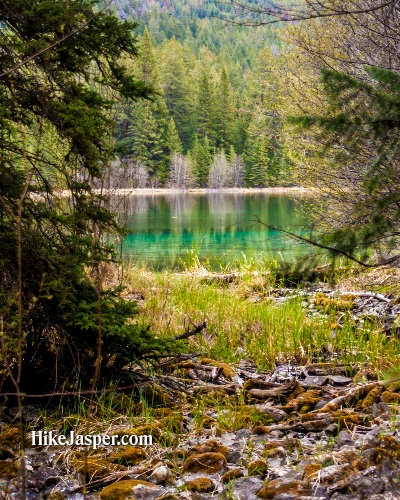 The Beautiful Lakes
Hike up to the junction where the route starts a circuit around three of the lakes. You can choose to hike either counter or clockwise at this junction.
The Third and Fourth lakes are considered the highlights.
When hiking down to the narrow land between fourth and fifth Lakes, you will come across a minor path that goes towards the fifth Lake.
The hiking trail will rise over ridges either way, bringing you back to the circuit junction again, completing the Valley trail's loop. This should be a familiar area that returns hiking towards the trailhead and parking area.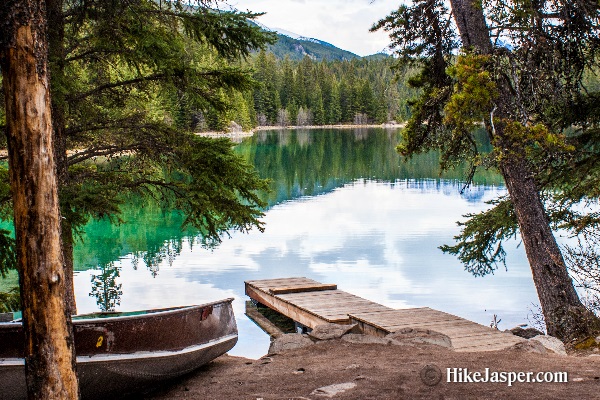 The five lakes each vary in beautiful shades of green and blue that naturally appear this way because of the glacial rock dust that colors all of the lakes and rivers in the area, along with special algae and other contributing factors.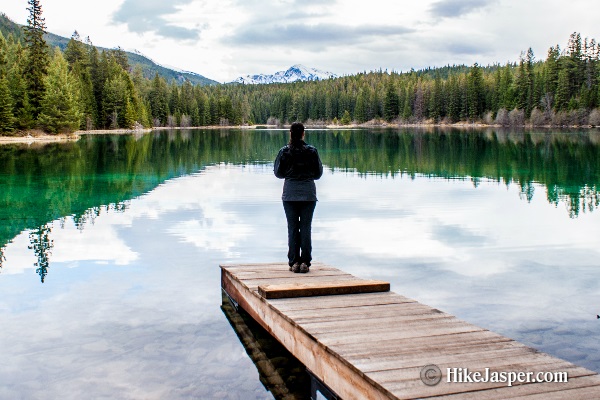 These stunning lakes are a "must see" in Jasper National Park, as they are considered one of Canada's natural wonders.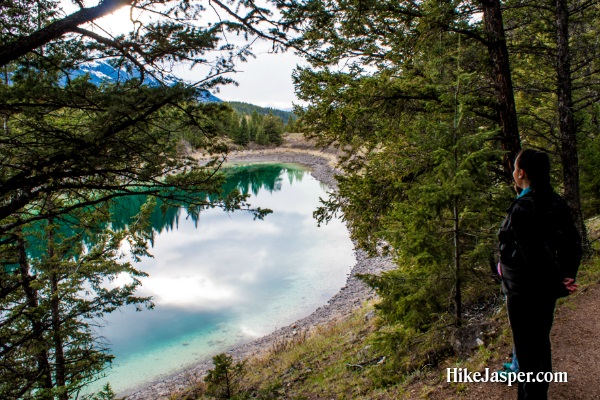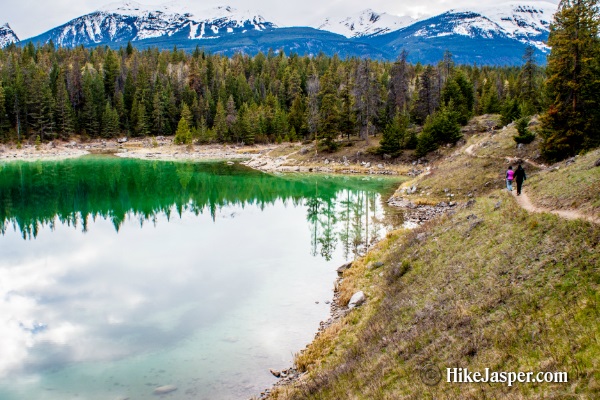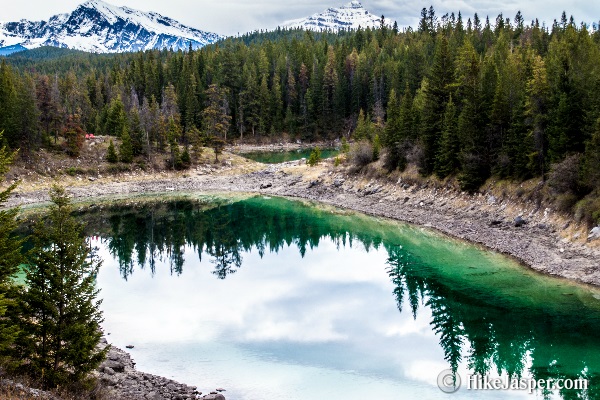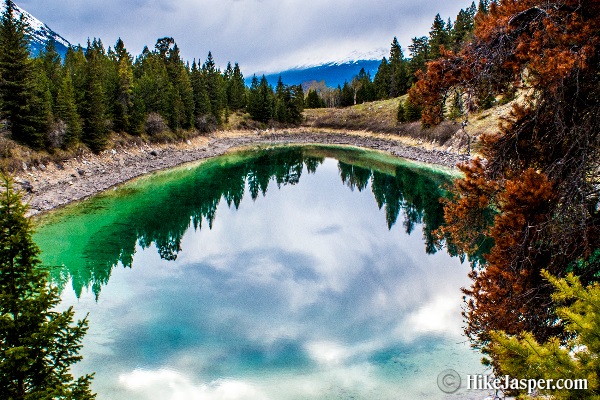 Bears frequent the Valley of the Five Lakes in the spring and late Summer.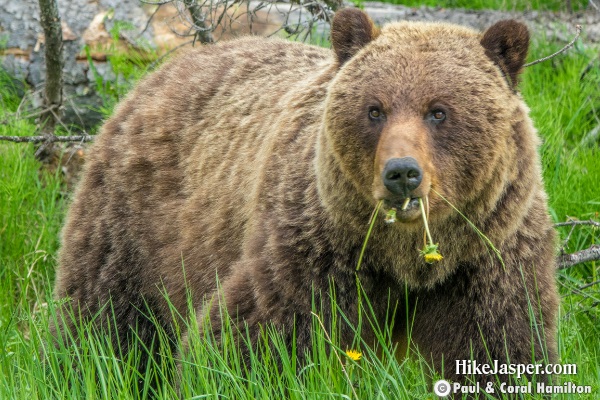 There are lots of springs, vegetation and cover that offer wildlife natural needs that we also find appealing.

In July and August, Bears frequent areas near the Valley of the Five Lakes Trail for the abundant berry crops.
Valley of the Five Lakes Satellite View
Valley of Five Lakes Hiking Trail Map