Hiking Distance Just over 6km to 2nd Lake's camp.
Hiking Time Plan for 2-3hrs to reach Geraldine's 2nd Lake. A 1/2-1hr Hike will take you to the 1st Lake.


Getting to
Geraldine Lakes Trail in Jasper..
From Jasper, going South at the lights, follow the Icefields Parkway just under 7km where you turn right on 93A. Drive 93A 23km to Geraldine Lakes road, turning right and winding your way up the rough road for 6km before reaching this Jasper Hike's trailhead.
The
Geraldine Lakes
Hike..
Leaving the parking area, this Jasper hiking trail is fairly easy to follow. Your hike will proceed on a gradual easy climb, winding through the forest all the way to the first opening. This Jasper Hike does have some trails that appear to be shortcuts, however, sticking to the main hiking trail is what you should do.
Hiking down a small slope will open up your view to the first Geraldine Lake, beside a brook or stream.
Continue hiking by and around Geraldine Lake on an eventual steep climb to a very rocky bench. Markers should be there to show you where to begin hiking across southeast to the valley.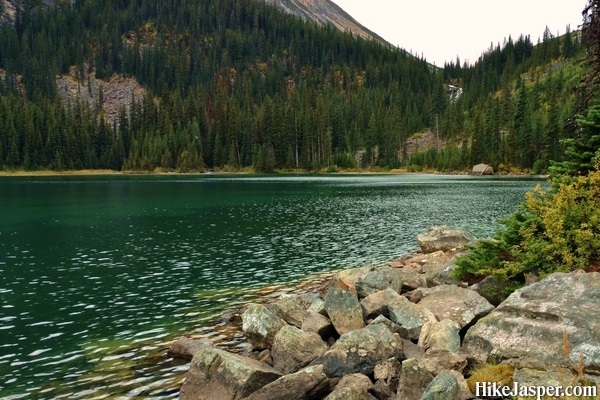 Hike towards the bottom of a waterfall and then back up a very steep hill, eventually reaching a ridge or summit. Hiking not far from here will reveal the 2nd Jasper Geraldine Lake.
From here, you will have to cross a large boulder-ridden hiking trail to reach the far end of the Lake and campground. Hiking to Geraldine campground is just to the right over a bridge. If it is wet or raining, you will probably want to hike back instead of crossing the Jasper Geraldine Lake boulder field as you approach the 2nd lake.

Road(final 6km to trailhead) is tough on your vehicle.
Geraldine Lakes Satellite View