Hiking Distance about 16km one way.
Hiking Time It will take from 4 to 7 hours to hike the Overlander trail, depending upon breaks and speed(one way).


Getting to
Overlander Trail..
To get to the Overlander's hiking trailhead, follow highway 16 towards Edmonton, turning right onto the Maligne Lake road. You will start at the same place as the Maligne Canyon route.. at the sixth bridge. Park at the sixth bridge picnic area. We would recommend using two cars for this route, placing one vehicle at the end of the Overlander hiking trail. This location is 18.1 km past Jasper's east exit, along highway 16, right beside the Cold Sulpher Springs.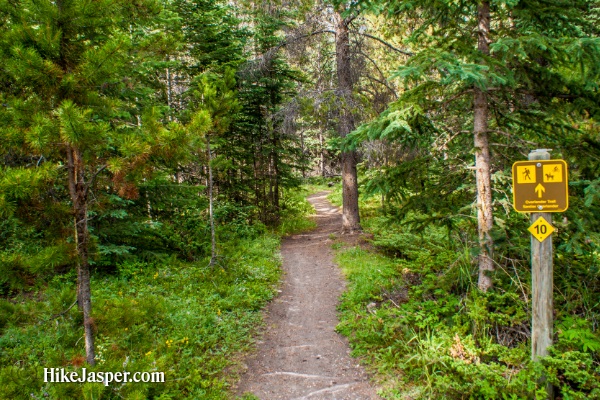 The
Overlander Trail
Hike..
The overlander trailhead is just opposite of the Maligne Canyon trailhead(6th Bridge), across the road. You will enjoy hiking the immediate left as it goes along the Maligne River, towards the Athabasca river. You will pass through a marsh before meeting up again with the main trail. Keep to the main trail, avoiding the government compounds to the east.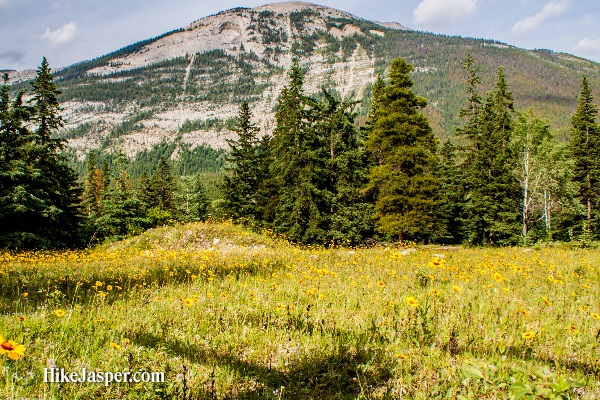 Hike through forest towards Garonne creek. Proceeding through another forested section will take you to John Moberly's homestead of 1 century ago. As you climb a hill in the next forested section you may smell sulpher. To your left will be views of Athabasca river, and if the water level permits, you may also be able to see the bubbling mineral springs.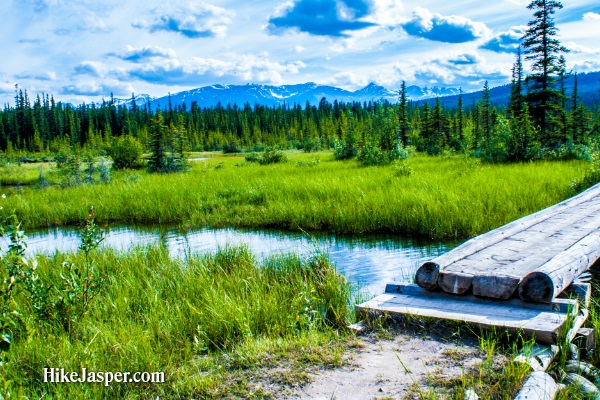 Hiking up a scenic mountain bench with interesting views will be enjoyed with the additional narrow, steep sections...watch your footing.
Near the northern end of the Overlander's hiking trail, you will come across numerous animal trails, which are usually used by Bighorn Sheep. Be aware of Grizzlies along the Overlander trail as well, because they do frequent it.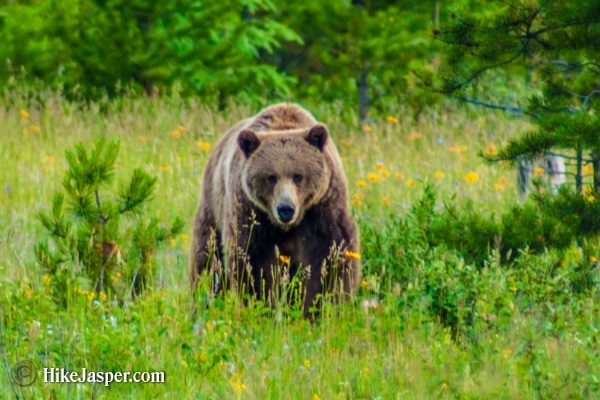 A decent hiking trail will go towards the left cliffs, where many people do some rock climbing. You can proceed to hike this way if you feel. We would recommend, continuing by taking the higher hiking trail to the right. After the elevated hike, you will start descending down towards Sulpher Springs, which do provide quite a picturesque final leg.

Grizzly bears are seen on the Overlander hiking trail.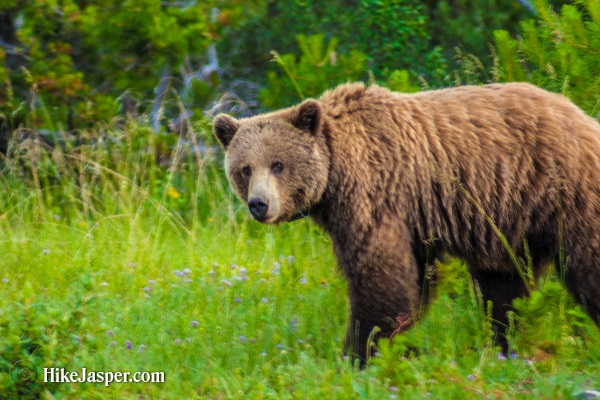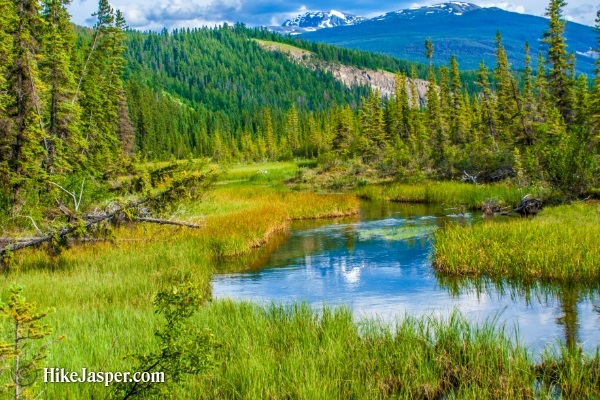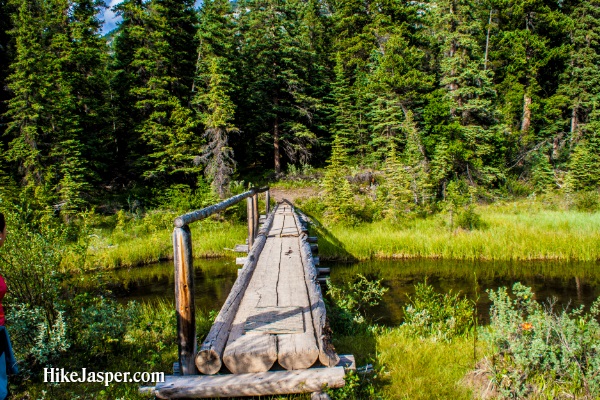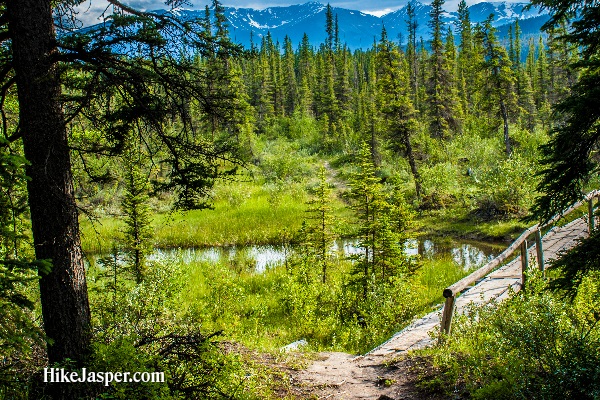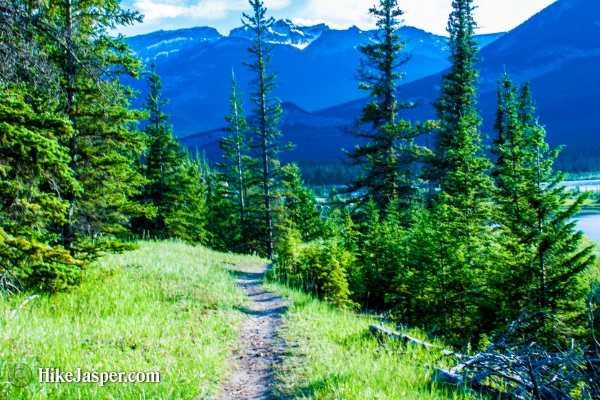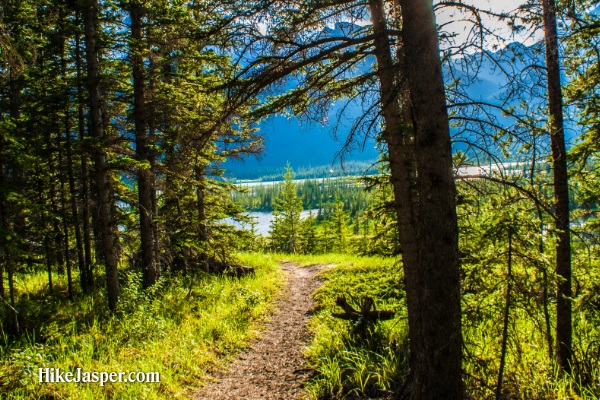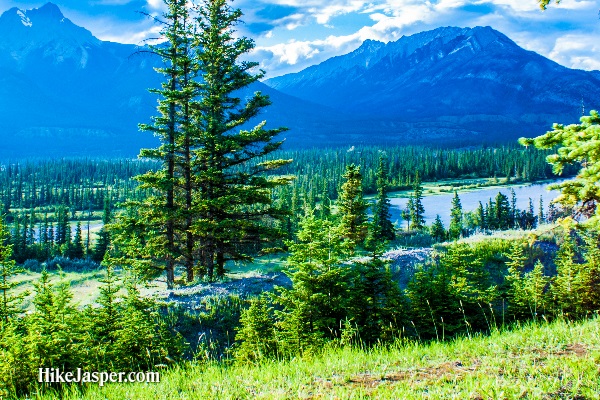 Please be Bear Aware - Grizzly Bear Encounters are Possible on the Overlander Trail
Overlander Trail Hike Satellite View
Overlander Hiking Trail Map