Hiking Distance about a 4.0km loop.
Hiking Time It will take about 1 to 2 hrs. to complete Old Fort's loop.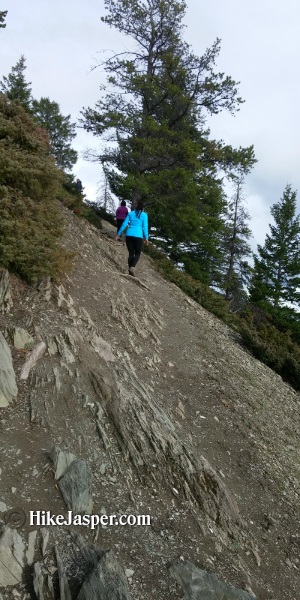 Getting to
Old Fort Point's Trailhead..
From Jasper, turn southeast off Connaught Drive on Hazel Avenue. Go 0.6 km, crossing the railway to Highway 16. Cross the highway and go 0.2 km to the next intersection, turning left at the prominent sign to Old Fort Point.
The
Old Fort Point
Hike..
Old Fort Point could be considered grand central station for a number of hikes. From this trailhead you can hike to Maligne River or to The Valley of Five Lakes. Old Fort's loop #1, however, is the clockwise (or counter-clockwise) loop that most people do from here.
We prefer to start at the steep wooden stairs which are at the base of the cliff. At the Athatbasca River Monument, turn left and keep uphill to the left along the ridge. The hiking trail is well defined from here all the way up to the lookout.
After taking in the panoramic views of the valley containing Jasper Park Lodge, Lac Beauvert, the Athabasca river, etc.; continue on back down from behind Old Fort's lookout. Hike the well defined trail down and in a long loop towards the left. Shortly, you will have the option to take the extension of this trail on loop 1a. We would suggest hiking left. The trail still has some up and down rocky terrain that can be slippery or even muddy when wet, so keep that in mind if this is one of your first hikes.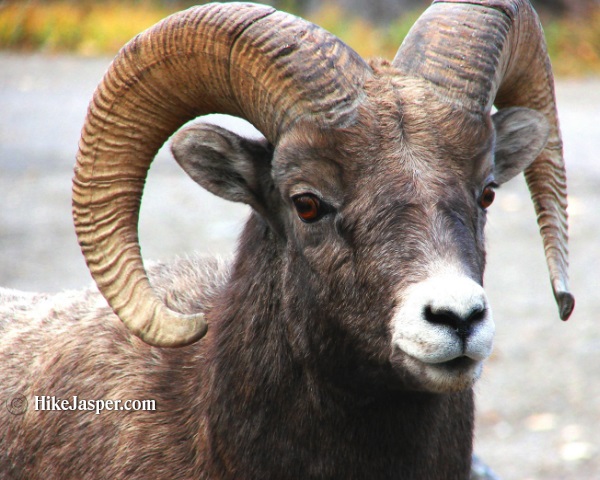 Bighorn Sheep often occupy Old Fort Point's summit area and Bears do frequent the valley bottom trails at certain times of the season.

Grizzly Mother and Cubs feeding in Athabasca River near Old Fort Point
Old Fort Point Satellite View
Old Fort Point Loop Hiking Trail Map