Typically a 2-4 day hike from the Maligne Lake trailhead(starting at a higher altitude) to the bottom of Signal Mountain, with three main challenging passes and boasting the highest section of hiking trail in Jasper National Park.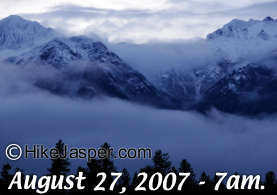 Jasper's skyline trail is also famous for its' challenging weather.


Skyline Hikers had to be rescued by helicopter on this day due to weather and losing sight of trails.

Hiking Distance It is 44-47 km to hike the full Skyline Trail.
Hiking Time It can take anywhere from 2 to 4 days to backpack.


Getting to
The Skyline Trail..
The skyline trail can be hiked from several starting trailheads with the most popular being at the end of Maligne road (48km from Jasper townsite).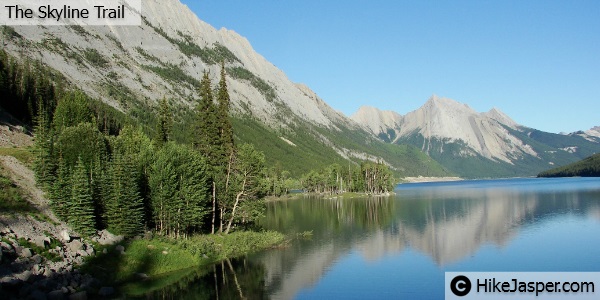 One gains significant altitude on the drive up Maligne road to allow quicker access to beautiful views. Signal Mountain, Wabasso Lake and the Watchtower are also popular trailheads to begin the Skyline hike from, which both change the elevation gain as well as the distance to backpack.
The
Skyline Trail
Campsites..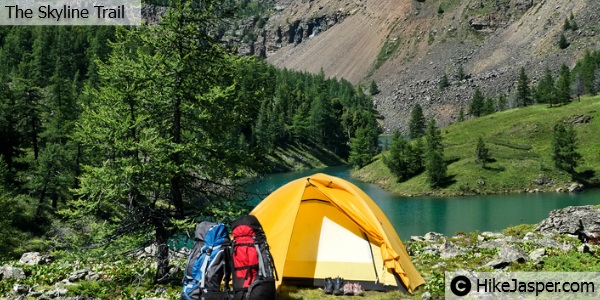 Backpacking campgrounds exist at 5 km, 8 km, 12 km, 19 km, 30 km, and 35 km, offering options for hikers of any persuasion (Evelyn Creek, Little Shovel, Snowbowl, Curator, Tekarra, and Signal respectively). Skyline trail campsites are well established, including bear poles and toilets. Please be sure to contact Parks Canada for details and booking as they are often booked months in advance. Camping is only permitted in designated campgrounds and the Skyline Trail is one of the busiest backpacking trails in the Canadian Rockies.
The Skyline Trail Campground Information

Campground
Description
# of sites
Fire pit
UTM
Evelyn Creek (Elevation: 1824 m)
Small, quiet campsites by a creek. Good for hikers starting later in the day.

4

452481-5843006
Little Shovel
(Elevation: 2233 m)
Beautiful views of Maligne Lake and the Bald Hills. Campsites are great for those who want to avoid the busier Snowbowl campground.

7

450097-5843025
Snowbowl
(Elevation: 2094 m)
Popular campsites in spectacular meadow, sheltered by trees, with easy access to water.

7

447313-5844782
Curator
(Elevation: 2070 m)
Popular with hikers taking 2 days to hike the Skyline trail. Campsites are situated
0.8 km off hiking trail and 1.2 km from Curator Lake.

7

442215-5849105
Tekarra
(Elevation: 2062 m)
Campground with great views and beautiful location next to a fast creek.

7

437992-5855673
Signal
(Elevation: 2014 m)
Quiet campsites atop Signal fire road. Great views over Jasper and surroundings.

7

434058-5858562
Jasper National Park Backcountry Campsite Reservations:
https://reservation.pc.gc.ca/Jasper or Reservation Helpdesk: 1-877-737-3783
The
Skyline
Hike..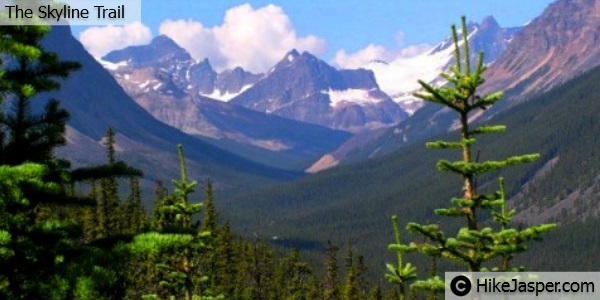 If you choose the trailhead at Maligne lake, there are two main ways to start the Skyline Trail. What's considered the "main" trail; from the parking lot, the skyline hike begins through the forest past Lorraine and Mona Lakes, to cross the Evelyn Creek bridge to the campground.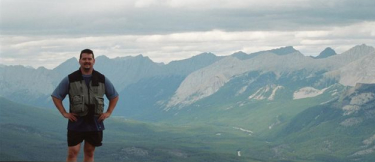 A popular option, but adds 4 km and 500m of elevation gain, is to hike to the Bald Hills for incredible views of Maligne Lake before using the fireroad that joins the trail to the Evelyn Creek bridge.
Evelyn Creek campground is nice for camping in the forest adjacent to the creek, but one can also hike passed for campsites at higher elevations if that is your preference. The Skyline hike will start elevating from Evelyn Creek campground to Little Shovel Pass. The campsites after Little Shovel, Snowbowl, is quite popular, so keep in mind that Little Shovel Campground may be a good option for a night to break up the steady climb. Continuing from Little Shovel Campground, the hiking trail opens up into Jasper's upper subalpine, rising to Little Shovel Pass at 10 km. When you enter the Snowbowl, the Skyline hiking trail can be seen through the meadows into the trees where the Snowbowl campsites are sheltered.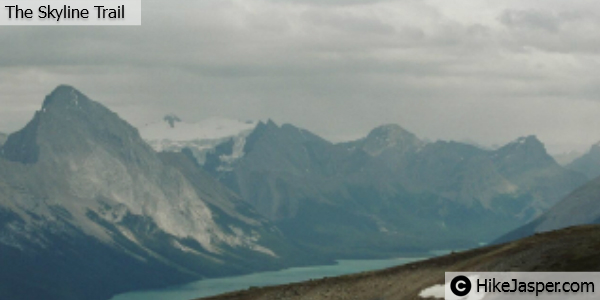 Snowbowl is popular in both winter and summer, as it contains a small cabin called "Shangrila", built by guide, Donald "Curly" Phillips, in 1936 for skiing enthusiasts. This backcountry cabin, administered by the Maligne Lake Ski Club, is not available to summer hikers.
Hiking from the Snowbowl campsites will ascend to flower-filled meadows... Little Shovel Pass (17 km mark). Mary Schaffer christened this area in 1911 "Shovel Pass" after having to dig their way through much of the terrain blocked by snow. Jack Otto was guiding Mary Schaffer during her survey of Maligne Lake over Shovel Pass and they had to fashion shovels from trees. The shovels left behind are now displayed at the museum in Jasper. From there, hiking towards the right, the Curator Basin passes the junction with the Watchtower trail. Descending 4 km into a valley leading to the Watchtower campsites offers another option for a night. *The Curator campground is popular, so please plan ahead for these choices.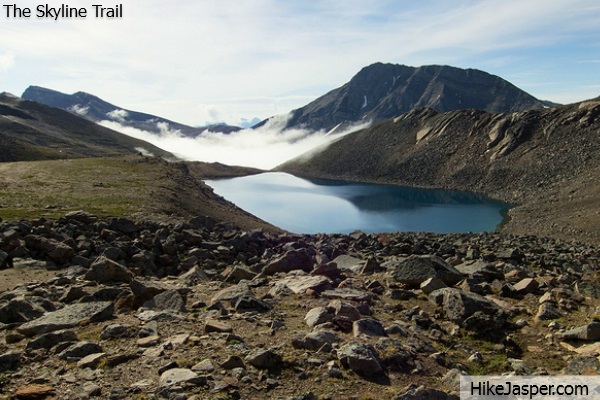 Hiking back to the Curator Basin trail section, Jasper's Skyline Trail to the Wabasso Creek junction represents km 19. Curator campsites are just under 1 km up this trail. Hiking just a little further brings you to Shovel Pass Lodge, which is often used by guided horseback trips, but does allow use by hikers if available. If bad weather can not be avoided, both the Watchtower and Wabasso areas allow escape hiking routes out of the Skyline.
Continuing past the Wabasso junction the Skyline Trail passes Curator Lake, ascending a stiff climb to the Notch at 22 km -
the highest elevation on the Skyline at 2511m.
We would suggest navigating the cornice that crowns this pass to the right rather than taking any risks.
If you have good weather, take time to absorb the breathtaking mountain views hiking the next 4 km of Maligne Range's crest.
The decsending hike down to Tekarra Campground is a tougher trail through rocky valleys with Mount Tekarra on the left and Excelsior on the right. Following Lower Centre lake with Centre Mountain dominating your view, the hike enters Tekarra Campground at 30 km. Beyound Tekarra's campsites the hike takes you across Centre Creek, bordering Tekarra and Signal Mountains to the Signal Mountain Fire road junction.
Signal Mountain's fire road ascends slightly for 1 km to the old lookout site, which we would also suggest taking in. Hiking down Signal Mountain's fire road to the right, you will pass the junction into Signal Campground. The hike descends 800m vertically from here into the forest cover for the final 9 km, which requires respect, physically. If you have never descended a trek after days of hiking in this manner, be prepared for a challenge.
If you don't have another vehicle or ride from Signal Mountain's trailhead, there are options for shuttles that will take you back to Maligne Lake's Parking Lot, but please make reservations in advance.

The Skyline Trail is critical Woodland Caribou habitat, so
no dogs
are allowed to help reduce stress on this disappearing icon of the Canadian wilderness. Parks Canada has banned dogs from all Caribou habitat in Jasper National Park.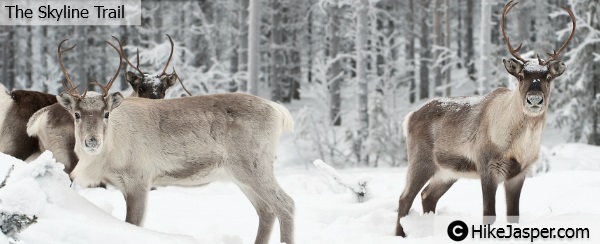 The Skyline Trail Hiking Map