Jasper
Columbia Icefield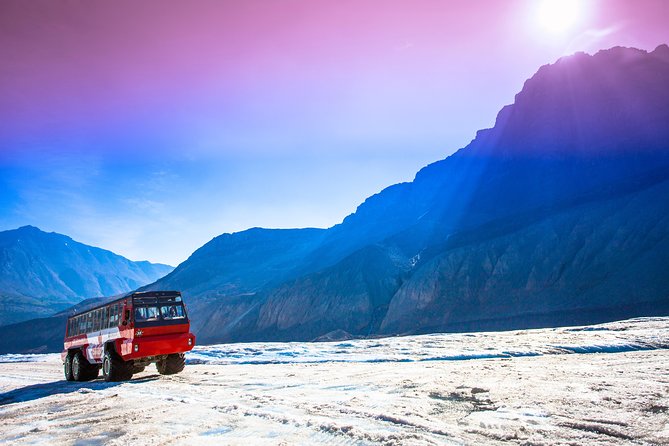 Explore Jasper Columbia Icefield's ancient Athabasca Glacier on a giant Ice Explorer
An adventure of a lifetime at Banff & Jasper National Park's Columbia Icefield. Ancient stories, astounding scenery and a deep sense of wonder are at the heart of this unforgettable experience.
Explore the ancient Athabasca Glacier on a giant Ice Explorer, discovering glaciology and stepping right on to the glacier itself.
Discover the awe-inspiring mountain scenery and massive glaciers of Alberta's Rocky Mountain region on the glacier tour to the Columbia Icefields. Follow one of the world's most famous mountain drives, the Icefield Parkway.
Book Jasper Columbia Icefield Tickets
* Booking the Jasper Columbia Icefield includes All taxes, fees and handling charges.
Jasper Columbia Icefield & Maligne Lake Tour
Fascinating guided tours exploring Banff & Jasper National Parks of Canada. Transparent travel itinerary, ensuring you a productive and pleasant tour during your visit to natural gems in Banff and Jasper National Parks, Columbia Icefield's Athabasca Glacier and Jasper's Beautiful Maligne Lake. Enjoy visiting Ancient Glaciers along the World Famous Icefields Parkway!
Book the Jasper Columbia Icefield
The
Columbia Icefields

& Athabasca Glacier Tour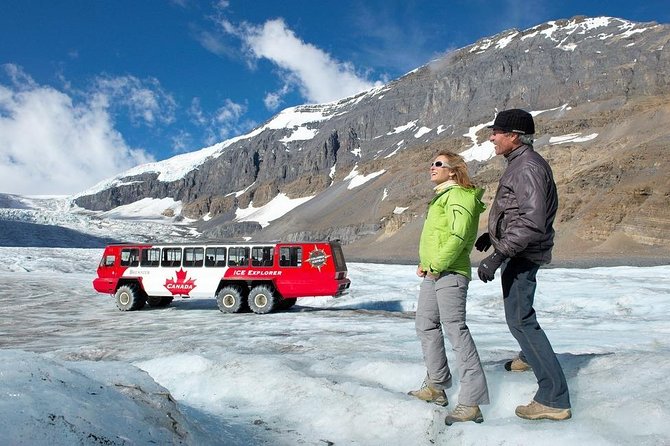 Columbia Icefield History
The Columbia Icefield is the largest ice field in North America's Rocky Mountains. Columbia Icefields are located within the Canadian Rocky Mountains astride the Continental Divide along the border of British Columbia and Alberta, Canada. The ice field lies partly in the northwestern tip of Banff National Park and partly in the southern end of Jasper National Park. It is about 325 square kilometres in area, 100 metres to 365 metres in depth and receives up to 7 metres of snowfall per year.
The Columbia Icefield was formed during the Great Glaciation, or Illinoisan period (238,000 to 126,000 BCE).
Book Jasper Columbia Icefield